Archive 2014-2015
(in reverse chronological order)
Report from Junior Nationals
The Junior Nationals were held in Winnipeg this year, with a total of 54 teams participating. Participants had 3 fun-filled days of debating, bowling, and touring of the newly opened Human Rights Museum. Many thanks go out the organizers, especially John Robinson, Carissa Nikkel, Andrew Kaplan, and Carla King. The winning team was from Upper Canada College in Ontario consisting of David Niddam-Dent and Adam Rothman, who defeated the team of Cecilia White and Gabriel Duguay from Nova Scotia in the finals. Quebec was represented by 5 teams from 5 different schools: ECS, Selwyn House, Royal West, Kuper Academy, and Trafalgar. The top Quebec team was Jarren Fefer and Nabeel Ahmed from Selwyn House who won 3 of their rounds and the top Quebec speaker was Jarren Fefer.
Summer Debate Camps
Summer is almost upon us. During the summer months, many institutions and companies across Canada offer debating camps where high school students can learn and practice with some of the best debating coaches in the country. If you are interested in attending one of these camps, please consult with our Summer Camps section.
Report from Senior Nationals
The Senior Nationals were held in Toronto this year, with a total of 52 teams participating. Thanks to the wonderful hosts at UTS, and to key organizers Steven Penner and Amy Robichaud. The winning team, for the second year in a row, was that of Lloyd Lyall and Samantha Starkey from West Point Grey Academy in British Columbia. They defeated a team from Manitoba in a tough final round. Quebec was represented by a total of 6 teams, 4 from LCC, one from ECS, and one from Loyola. Congratulations to Michael Di Giorgio for being the top speaker from Quebec, coming in 33rd out of 104 debaters.
Report from University of Ottawa EDS High-School Tournament
The University of Ottawa held one of its largest high school tournaments, and 15 teams from Quebec were among the 44 in attendance. Two Quebec teams, both from LCC faced each other in the semi-finals. Dylan Theriault-Harris and Michael Di Giorgio who were undefeated going into the break defeated Joseph Wiltzer and Ashley Gold in the semis, and made it to the final round! Although they lost in the final, it was a split decision in a very close round. The novice final consisted of one team from LCC, Lucas Mastrodomenico and Carolyn Steinberg, and one team from Selwyn House, Jarren Feffer and Josh Cohen. This was also a close round, but in the end the team from LCC came out on top. Congratulations to all the Quebec teams in attendance for their great showing at this tournament.
Junior and Senior Championship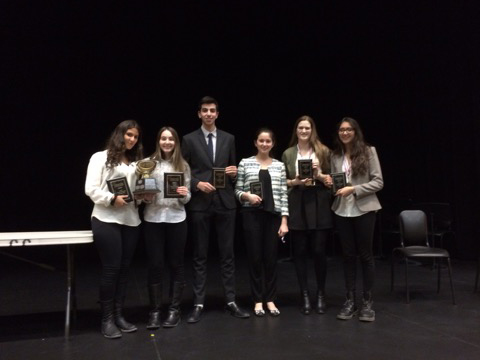 On February 20th and 21st, the QSDA Provincials were hosted as a two-day event, with six rounds of debating, and both the junior and senior provincials were held at the same time. This tournament was co-hosted by Trafalgar and Lower Canada College. On Friday, there were two prepared rounds. The seniors debated the topic: "This House Would require all acts of the Canadian parliament to pass a Supreme Court challenge before becoming laws." The juniors debated: "This House Would oppose mandatory minimum sentencing in Canada." On Saturday, there were four impromptu rounds. The Junior champions were the Trafalgar team of Sydney Joy and Gabby Martucci. The other teams in the top five that qualified for Nationals were from Selwyn House, ECS, Royal West, and Kuper Academy. Sydney Joy from Trafalgar was the top speaker and Nabeel Ahmed from Selwyn House was the 2nd place speaker. In the senior division, the provincial champions were Julia Leb and Victoria Kalisky from LCC, who were the only team with a 6-0 record. The other teams in the top 5 were all from LCC, except for the 2nd place team from ECS. The top two senior speakers at the tournament were Athina Khalid and Maria Zimmermann, both from ECS. Special thanks to all of the coaches and judges!
Report from McGill Winter Bonanza
On February 6th and 7th, around 60 teams attended McGill's second event of the year, held in CP format. Teams came from all across Canada for this event. Three teams from Quebec advanced to the hidden quarter-finals: the team of Foster Salpeter and Riley Cohen from LCC broke 3rd, the team of Rana Gaffar and Marissa Hatzigeorgiou from ECS broke 6th and the team of Athina Khalid and Maria Zimmermann also from ECS broke 7th. After a challenging round, the team of Rana and Marissa were the only ones to advance to the semi-finals, where they lost to a tough team from UCC. The top speaker at the tournament was Nitish Dhingra from UCC and 3 speakers from Quebec were also recognized in the top 10: Riley Cohen placed 6th, Marissa Hatzigeorgiou placed 8th, and Athina Khalid placed 10th. Thank you to McGill for a great tournament!
ECS Tournament Summary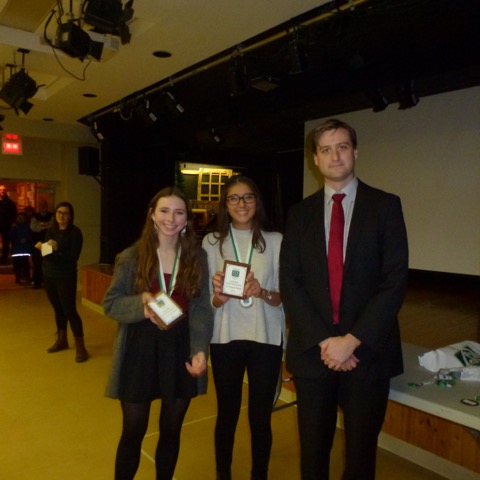 The first QSDA tournament of 2015 was held at Miss Edgar's and Miss Cramp's School on Wednesday, January 21st. Eighteen teams participated, and many kind judges from McGill University helped out with judging. Congratulations to Laurence Campanella from Vincent Massey for her 1st Place Speaker award, and to ECS's team of Olivia Stein and Athina Khalid for their 1st Place team award. Thank you to all the debaters and coaches for making this another successful and fun tournament.
Report From Queen's University High School Tournament
On January 9th - 11th, 2015, the QSDA was represented by Lower Canada College, Miss Edgar and Miss Cramps, and Selwyn House at this year's Queen's debating tournament. One-Hundred-And-Six teams were in attendance from all over the world. It was a frosty week-end, but full of inspired debate. There was even a sighting of Canada's Prime Minister at the local hockey game. Special congratulations go to the team of Foster Salpeter and Riley Cohen from LCC who broke 5th, and the team of Maria Zimmerman and Jiasi Liu from ECS who broke 16th, and more congratulations to Riley Cohen also received the 4th place speaker. Well-done to all of the debaters who represented Quebec at Queens.
Report from the 2014 Oxford Cup Canadian Championship
The 2014 Oxford Cup Canadian Championships took place at Selwyn House School on November 14-16. Eighty-eight teams from across Canada competed in British Parliamentary Style to represent Canada at the Oxford Cup Tournament in Oxford, England. In the end, the first-place trophy went to Sam Starkey and Lloyd Lyall of West Point Grey (BC), and second-place went to Rory Flynn and Mattea Roach of Sacred Heart (NS). These two teams will represent Canada in England, good luck to both of them. A big thank you to everyone who contributed to making the tournament a success.
QSDA Junior Tournament at West Island College
On Monday, December 6th, West Island College held a QSDA Junior tournament. There were two prepared rounds of debate followed by one impromptu round. Congratulations to Jarren Feffer and Nabeel Ahmed from Selwyn House for their First Place finish. Second place went to Santina Conte and Katherine Iadeluca from Vincent Massey, and Third Place went to Jacob Igby and Adam Goren from West Island College. Congratulations to Diana Britvina from Kells on her First Speaker award. Thank you to Christina Grivas and to all of our competitors.
Report From McGill
This year's annual British Parliamentary tournament at McGill University drew a record of 136 teams. Congratulations to the McGill Debating Union for running an outstanding event! A total of 20 teams from Quebec participated this year, including students from LCC, Selwyn House, The Study, ECS, Loyola, Vincent Massey, and St. Thomas. One Quebec team made it to the quarter finals: Maria Zimmermann and Athina Khalid from ECS. Athina Khalid was also the top Quebec speaker at the tournament. The winners of the tournament were Rory Flynn and Mattea Roach from Sacred Heart School of Halifax. This tournament was the qualifier for the Oxford Cup, which will be taking place in Montreal in November. The top 7 Quebec teams from the McGill tournament qualify for the Oxford Cup. In addition to the quarter-finalists from ECS, the other teams to qualify were Dylan Theriault-Harris and Michael DiGeorgio (LCC), Joseph Wiltzer and Ashley Gold also (LCC), Riley Choen and Foster Salpeter (LCC), Linda Zhu and Julia Leb (LCC) Chloe Shahinian and Sophie Battat (The Study), and Adrian Goin and Gabriel Santaguida (Loyola). Congratulations to all!
QSDA Junior Tournament at St. George's
The first Junior tournament of the year was held at St. George's School on Monday, October 6th. Twenty-two teams participated for two prepared rounds and one impromptu round. Congratulations to Santina Conte from Vincent Massey for the First Place Speaker award, and to Jenna Blatt and Gabby Martucci from Trafalgar for winning the tournament. A special thanks to Donna Gold at St. George's for hosting.
QSDA Senior Tournament at Selwyn House
The first QSDA tournament was held at Selwyn House School on Monday, September 29th. Twenty-two teams participated, and it was an excellent beginning to the debating year. Congratulations to Chloe Shahinian for her 1st Place Speaker award, and to The Study for their 1st Place team award. Thank-you to all the debaters and coaches for making this a successful tournament.
Welcome Back!
Welcome debaters, coaches, and judges to the 2014-2015 high-school debating year. It is our most sincere hope that it will be a year filled with excellent debating competitions for Quebec debaters of all levels.
Most of the tournaments scheduled for the year can be found in the Calendar section of the website. We are still working out the details for some tournaments, so check back often for updates. You can also follow the QSDA on Twitter via the link above. If you are an experienced debater who is interested in being a judge, you can sign-up for the QSDA Judging Pool on Facebook.
For those of you who are new to debating, or who are trying to establish debating teams at your schools, this website contains a wealth of information for debaters under the Debating Resources tab. You can also feel free to contact me, Jonathan Bracewell, at president@qsda.org.
We look forward to seeing many of you at our first tournament.